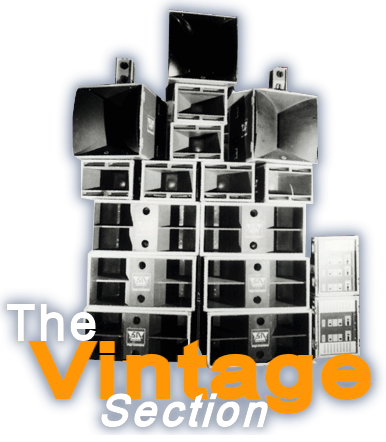 Welcome to the vintage section of Stage Accompany products.

With almost all SA products ever manufactured still in use today, we receive many inquiries for information on older products. Since we don't reprint the old brochures, we thought it to be a good idea to place them on a site-category of their own.

In this section you will find full-color brochures, black & white leaflets, but also AES White papers. These papers show SA's position on the "cutting edge" of pro audio technology, already back then!
Below we've included as many information on the older products as we could find in our (dusty!) archives. If "new" info comes up, we will include them in this section. If it's not here, we don't have it! (thanks for cleaning up, Ed..).
In a nutshell, SA started manufacturing loudspeaker cabinets in 1977 (the W-bin), following with amplifiers in 1980 (the SA 500); The big "change" came in 1986 with the Blue Box, the first "Ribbon Compact Driver-loaded" product, with more to follow. After that the Champion Series came (1987) as "modular" system (to be transformed into the current "Champ Series"). The Performer system was introduced in 1990 (with PPA 1200 amp).
Basically, all speaker systems before 1986 used JBL components. All cabinets were available in black with or without speakers and in SA blue with speakers only.
After 1986, all speakers were/are Stage Accompany. Especially, by being in production for more than 15 years, the Blue Box has many versions. Therefore it is important to check of what version you would like to have information.