StageTools
Version : 2.0, open beta
Platform : iOS, minimal iPhone 4 or iPad with iOS 6.0


Android (soon be available)
This App was born from the idea of creating a platform for testing the Stage Accompany UltraCode transmissions and to provide the Professional Audio engineer with some tools for use in live events and trade shows. The App is designed to work without the need of an Internet, Wi-Fi or BlueTooth connection.
Three features are contained in the software in this first open beta release (additional features will be added in the future).
• SPL Calculator: at the start-up of the App a page is shown with a SPL Calculator to let the user estimate a theoretical SPL around a given hotspot area at a given loudspeaker-amplifier combination.
• PD mode (Proximity Detection): in the background of the SPL Calculator screen the App is constantly "listening" through the microphone of your device for nearby (less than 10 á 15 meters) SA UltraCode transmissions. If the mobile device comes in range of a SA UltraCode signal the App reacts with a popup that shows a welcome message (Sonic Message). Leaving the covered range of the SA UltraCode signal the App shows a (15 second delayed) popup, with a goodbye message. This feature can for instance be used at a live event or a trade show.
• LS mode (Light Show): when the Light Show button is selected you can tap on the greyed-out SA logo, which will cause the logo to glow. The App is now listening for SA UltraCode signals that will change the color of the screen. The codes corresponding to each color can be controlled by the light operator's DMX console. At an event It's even possible to send these UltraCodes to all mobile devices (in range, with the App installed and active) to take part in the "on stage" light show. The transmission of these UltraCodes (inaudible for humans and animals) to mobile devices at a live event requires very powerful high frequency transducers. Therefore Stage Accompany developed the RB3 enclosure, from the Sonic Message Series, which consists of three SA8535 Ribbon Compact Drivers. The SA8535 is the only driver in the Pro Audio industry capable of producing these high frequencies at very high SPL levels needed at live events.
Join the Stage Accompany StageTools App Open Beta Program.
Stage Accompany is looking for iOS and Android testers like you. If you would be interested in using a great new Stage Accompany App and participating in our beta program, please head over to the sign-up page, to sign up.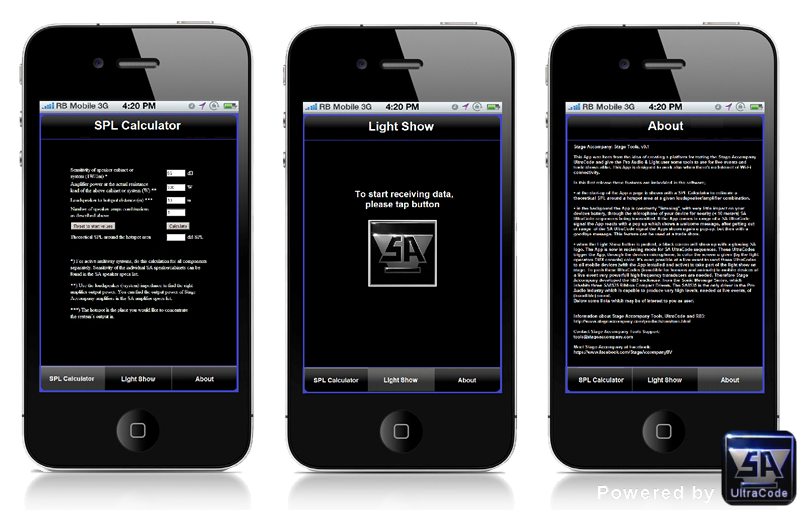 UltraCode

At present nobody leaves home without a smartphone.
At live events you have to look hard for someone without a smart phone. This massive presence almost begs for interaction with these devices at those events
Sending data to the mobile phones in the form of, information, advertisements, song info, contest, hyperlinks, text (real-time) provides a marketing opportunity. Also remotely "triggering" an event on the mobile phone itself, like a light show (controlled color changes of the mobile display) or send it a message with a link to a particular website are possible.

The massive use of mobile phones during a live event often completely overloads existing Wi-Fi, 3G/4G Internet and Bluetooth connections.

The challenge thus becomes to devise an alternative data carrier and the SA solution is:

Sending data through (inaudible) sound!
UltraCode test page

At present two types of codecs that are able to send data through sound are available: SA UltraCode codec and the Sonic Notify codec.
StageControl
The StageControl software was deloped for the Stage Accompany Digital Series (DS20 and DS50) and High-End Series amp (HE50).
Installing StageControl gives you the possibility to remotely setup, monitor and update (firmware) your SA amp(s) from the Digital Series and High-End Series through USB or Ethernet.
The following operating systems are supported:
Microsoft Windows XP with Service Pack 2 (32-bit and 64-bit)
Microsoft Windows Vista (32-bit and 64-bit)
Microsoft Windows 7 (32-bit and 64-bit)
Microsoft Windows 8 (32-bit and 64-bit)
MAC OS X 10.5.8 or higher

The StageControl configuration software can be used in offline mode (Demo mode) to learn and prepare configurations, without the need to be connected to a Digital Series (or High-End Series) amp through USB or Ethernet.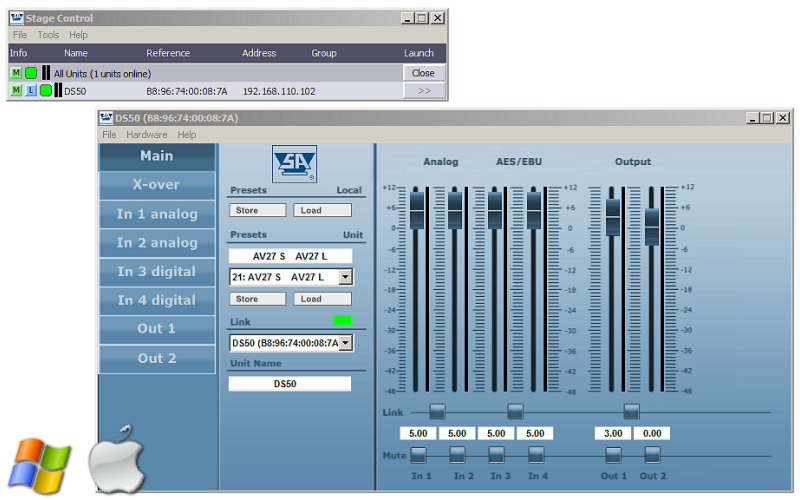 Presets DS50 (HE50)
After downloading please extract the ZIP-files to a temporary folder, and upload the preset(s) into your Stage Accompany DS50 (HE50) amplifier.

Important: Before installing one or more of the presets below, please make sure to back up your presets first.

Preset number:
DS50 (HE50) Preset file:
Description:
01
01__2500_____2500__.zip
Full range - full power, 4 Ohm
02
02__2000_____2000__.zip
Full range - full power, 2 Ohm
03
03_ab36_1____ab36_1.zip
AB36, one per channel, 4 Ohm, 2500W/enclosure (recommended)
04
04_ab36_2____ab36_2.zip
AB36, two per channel, 2 Ohm, 1000W/enclosure (economical solution)
05
05__ab18______pr34_.zip
AB18 - PR34, bi-amp, sub - top
06
06__pr34_____pr34__.zip
PR34, passive, full range
07
07___f9_______f9.zip
F9, full range
08
08___m57_____m57___.zip
M57, passive, full range (in wall)
09
09__m57_2____m57_2_.zip
M57, passive, full range (on wall)
10
10__m57_4____m57_4.zip
M57, passive, full range (free standing)
11
11__m57l_____m57h__.zip
M57, bi-amp, low - high (in wall)
12
12__m57l_2___m57h__.zip
M57, bi-amp, low - high (on wall)
13
13__m57l_4___m57h__.zip
M57, bi-amp, low - high (free standing)
14
14__ab36_____c27___.zip
AB36 - C27, bi-amp, sub - top
15
15__s26l_____s26h__.zip
S26, bi-amp, low - high
16
16___c24_____c24___.zip
C24, passive, full range
17
17__c24l_____c24h.zip
C24, bi-amp, low - high
18
18__c27l_____c27h__.zip
C27, bi-amp, low - high
19
19__p29m_____p29h__.zip
P29, bi-amp, mid - high
20
20__p26m_____p26h__.zip
P26, bi-amp, mid - high
21
21_av27_s____av27_l.zip
AV27, tri-amp, sub - low
22
22_av27_m____av27_h.zip
AV27, tri-amp, mid - high
23
23_av27_s____av27_s.zip
AV27, tri-amp, sub - sub
all
all_presets_ds50-he50.zip
All DS50 (HE50) presets
GL20 (Genesis) Pointer
GL20 pointer calculation sheet to use with the Genesis Series mini line array.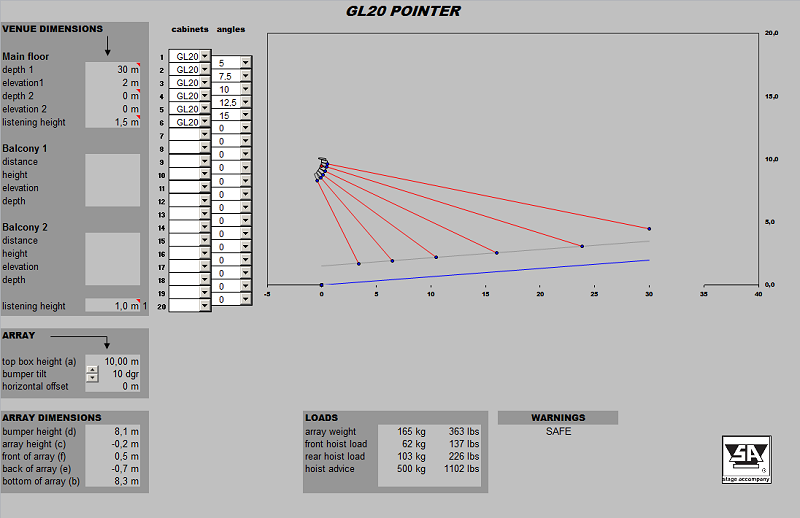 Download: gl20pointer_v1.zip
AV27 Pointer
AV27 pointer calculation sheet to use with the Audience Series AV27 line array.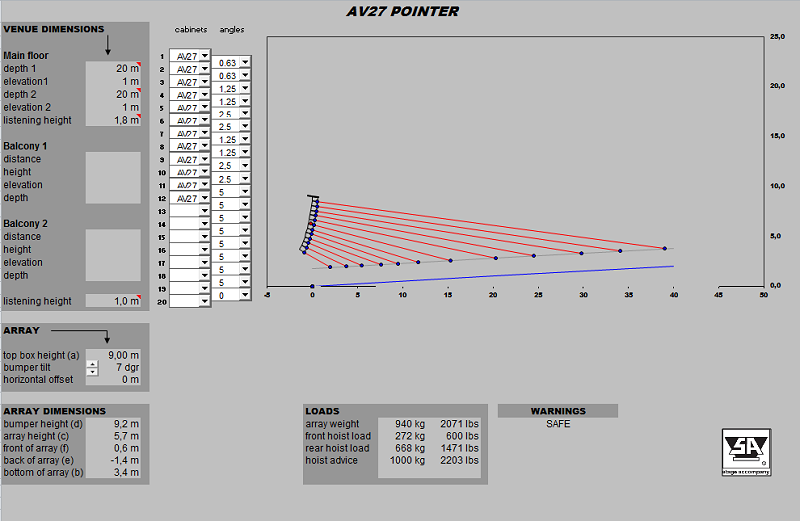 Download: av27pointer_v1.zip